Pyramid of Cards
17/02/2020
Ava James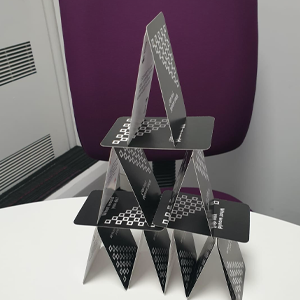 Your Experience and involvement with Social Work
I am a Newly Qualified Social Worker in England who prior to my studies had found a passion for helping others. Living in a diverse world where there is poverty, oppression and discrimination, families continue to have unmet needs.
Becoming a social worker has been rewarding as I have played a positive role in providing families with support. Unfortunately it has also been disheartening due to barriers in social work practice.
Partnership working has supported social work intervention by providing high quality joint care.
Write briefly why you chose this object and what it means to you
You'll need more than one card to successfully play a game, or in my case build a house of cards.
The lower section of the pyramid represents the family and each card above that represents the support to help them reach self-actualisation.
In social work there are limitations that can hinder the method of intervention, such as lack of funding, non-engagement from families and lack of resources and services.
Each limitation leads to unmet needs and therefore limits the families' growth and development.
Even with the breakdown of support the family will remain a part of the pyramid, at its fundamental base. As the lead professional, it is the role of the social worker to work in partnership with the family – to help put the cards in place – and other professionals to continue to support the family to reach self-actualisation.
---
Related: