Puzzle
12/02/2020
Rachel Sharples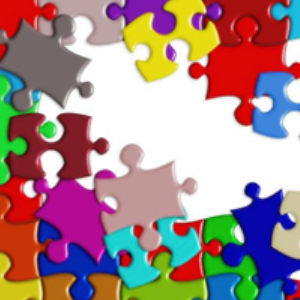 Your Experience and involvement with Social Work
My name's Rachel Sharples and I started my social work journey at the age of 27. I have years of previous experience working as a youth worker, learning support assistant with children who have SEN, nursery assistant, care worker and mental health out-reach worker. I am currently on my first placement in a hostel supporting homeless families which can be complex due to the families needs and the different reasons of becoming homeless. Furthermore, I support families with housing officers to find suitable properties to rehouse families in permanent accommodations.
Write briefly why you chose this object and what it means to you
I got diagnosed with a learning disability at the age of 19. I used to get embarrassed by my dyslexia; I hid this diagnosis for many years. However, this is now progressively changing, and I hope this reaches out to others with the same or similar diagnosis. This puzzle represents my learning disability and the way in which my brain functions. Sometimes the pieces fit, sometimes they don't; and some pieces are missing completely.
However, this does not mean the puzzle doesn't work; you will have to find other ways to piece it together. Find out what pieces of the puzzle work for you and cater for your learning. Having a disability is tough and so is the labelling and stigma that comes with it. I have felt the need to function like everybody else without a learning disability, which is oppressive. This is something I simply cannot ignore and have been at conflict with my dyslexia and the need to "fit in" for many years.
A learning disability is a neurological disorder. Therefore, I cannot rewire it and I don't want to. My dyslexia represent the colours of this puzzle and how bright and creative it can be. Although some pieces are missing, they are colourful and bright; meaning this can bring another creative perspective to learning. I hope to bring other styles of learning to students who also have a learning disability, to be creative in the way we learn and think positively toward disabilities. Empowering rather than disabling.
I hope to influence other's in their journey as social workers, to be happy and accept the fact their brains may function differently than others.
Furthermore, students with disabilities can show empathy to others who also share a diagnosis and can have the skill to adapt to specific needs, whether this be colleagues or clients. I would like for other students to feel inspired and refuse to let a learning disability act as a barrier for future career choices. Although certain learning disabilities are not visual; colleagues, managers and lecturers need to be mindful that disabilities are not invisible. Like the puzzle above; bright and colourful.
---
Related: