Patrick Mulrenan, Associate Professor of Learning
Patrick Mulrenan, Associate Professor of Learning, Course Leader BSc Community Development and Leadership
What do you remember from your childhood? Sunny summers? A trips to the seaside? Well, my abiding memory was being showed an inside toilet when I was 8 years old. Not just any old toilet, but one of two (yes, two!) in our new council house in Nunhead in 1970. 
I had grown up as the youngest of eight children in a 3-bedroom, privately rented maisonette in Ash Street, at the Elephant and Castle. We didn't have heating or hot water and had to fit 10 people into 3 bedrooms. We had one toilet but it was outside. Eventually the flats down as part of slum clearance, and Southwark Council rehoused us. We were one of the last families to leave, so I have vivid memories of the area being flattened to build the Heygate Estate. 
So I grew up in a comfortable council house, with our own front door, a bathroom and two (yes, two!) toilets. And we mixed with people who were different from us too. Living in the Elephant and Castle meant we hardly knew anyone who was not Irish and Catholic. I met people who had never seen been to church or confession. Once I got to know them, I secretly felt that some of them would probably benefit from the occasional visit to the confession box. 
Living in a council house did wonders for us. Not just the hot water and the space, but having a secure place that was ours. There's a picture of our council home at Limes Walk below. I'd like to visit my first home in Ash Street, but it is gone (and good riddance I say). In fact, I can't even visit the Heygate Estate which replaced it. That's gone as well, knocked down only 40 years after it was built, and replaced with some luxury homes. 
I noticed the other day that the new development at the Elephant and Castle will restore some of the old names. The developers are currently building 'Ash Avenue', which apparently offers a 'kitchen to kerb proposition that services up everything from cocktails to formal dining'. Maybe council housing doesn't provide this, but it should be celebrated for helping many families to get on in life.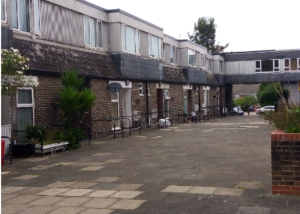 Limes Walk 2021